Fireplace Glass Doors - The Fireplace Showcase
Standard Doors
Our standard selections offer the same level of quality found in our custom units. Standard sizes allow for shorter lead times and greater affordability. The standard line is also broken into three separate classifications, allowing our customer to find the exact solution that works best for their fireplace. Standard lines include:
Insider – Our most adaptable solution in terms of style and finish. 2" flat steel frame, inside fitting doors and 4 unique styles of doors.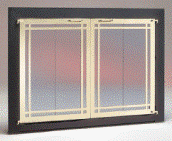 Optima – For great flexibility in style and finish. 2-1/2" flat steel frame, overlap fitting doors and 1 style of door.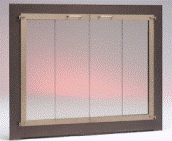 Trimline – An affordable, high quality option. 2" formed steel frame, overlap fitting doors, 1 style of door and a limited finish offering.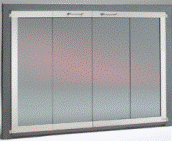 Trimline - Standard Fireplace Door
Our custom fireplace doors can be built to any shape or size. If you can dream it, we can build it. Typically, fireplaces come in one of two styles – arch openings or rectangle openings. We have a selection of door styles to fit each. Plus, with a custom door, you can choose from all our plated finishes and even our powdercoat finishes (see "our finishes" for complete selection).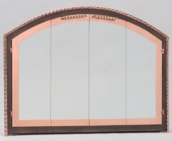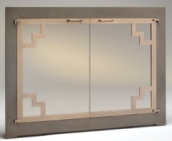 The Fireplace Showcase Guided Virtual Tour