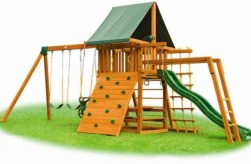 There may be snow in spots, but spring is here and Easter is right around the corner. It is time to start thinking about the outdoors and more specifically your yard. Wood swingsets are the perfect addition for any young or growing family.

Wooden swingsets keep kids entertained for hours while exercising both their bodies and minds. The Fireplace Showcase carries a wide selection of swing sets starting with the most basic model Jungle Gym up to our most extreme. But regardless of the model you choose, you will be offering your child imaginative play with slides, ropes, and miniature forts. Wooden jungle gyms are always a favorite set among children.

The innovative wooden swingset designs, quality cedar construction and exceptional value has created happy kids and families all over Cape Cod, Southern Massachusetts, and Rhode Island. Enjoy outdoor play together as families and start your kids on a path of a healthy, active, and imaginative lifestyle they won't get from video games and tv. The Fireplace Showcase offers wooden swingsets for almost any outdoor space.

Start creating your own childhood memories. Contact The Fireplace Showcase for more information on Easter Jungle Gym wooden swingsets.
Comments (0)
|
Trackbacks (0)
|
Permalink
|
|