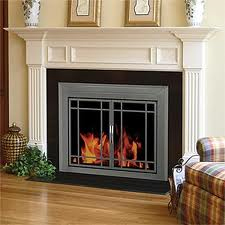 You may not want a new wood stove or fireplace insert, maybe you just want to add efficiency and beauty to your existing masonry fireplace. You can with glass fireplace doors.

Even if you only use your fireplace for ambiance and not as a heat source, you can and should make it more efficient. Traditional open fireplaces draw the warm air out of your home and up the chimney. So even though you just want to enjoy a fire, you are paying more to do so. You can spruce up your fireplace and make it more efficient just by adding glass fireplace doors.

You are doing yourself and your pocketbook a disservice when you use your open fireplace just for ambiance. Standard and custom made fireplace doors are the answer. Custom glass fireplace doors can be created in any shape or size.

Contact Fireplace Showcase for the best solution in glass doors.
Comments (0)
|
Trackbacks (0)
|
Permalink
|
|