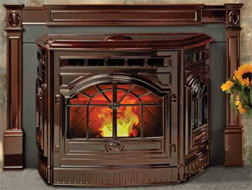 If you bought a new wood stove or pellet stove in 2012 or are thinking about buying one now, the Federal Tax Credit for Wood Stoves was Reinstated for 2013 and Retroactive to 2012.

Last year's federal tax credit of $300 was reinstated for all wood and pellet stoves and inserts that are at least75% efficient.

Homeowners can use the tax credit towards the purchase price and the cost of professional installation of a new wood stove, pellet stove or fireplace insert.

The Federal Biomass Tax Credit provides for a 10% tax credit up to $300 for wood and pellet stoves bought in 2013 and it is retroactive, so that all eligible stoves purchased in 2012 can also get the credit.

If you purchased a wood or pellet stove or insert in 2012 and did not take advantage of this tax credit, you can still take advantage. If you are in the market for a new biomass stove or fireplace insert, the tax credit is valid through December 31, 2013.

For more information on the tax credit or on the best wood or pellet stove or insert for your home, contact the Fireplace Showcase.
Comments (0)
|
Trackbacks (0)
|
Permalink
|
|