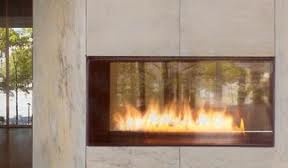 More people are buying vent free gas fireplaces. This is because a vent free gas fireplace is easy to use and very convenient.

Ventless gas fireplaces come in all types of styles as well. Two of the most fun and different designs are the see-through and the peninsula design. With the see-through design, you can see the fire from both sides of the wall and heat is projected into both rooms that the fireplace serves. This design is often used in the wall between a living room and dining room, or living room and kitchen.

The peninsula design offers three viewing sides and releases heat in three directions. This particular vent free gas fireplace model is most often used in a short divider wall positioned between two rooms. The peninsula style is perfect for rooms where friends and family gather.

Fireplace Showcases vent free gas fireplaces are inexpensive and have low operating costs. The efficiency of the vent free gas fireplace is almost 100 percent. Moreover, you can use a vent free fireplace all spring long, just flick the switch. Vent free gas fireplaces can also bring you warmth when the power goes out. Contact Fireplace Showcase for more information.
Comments (0)
|
Trackbacks (0)
|
Permalink
|
|