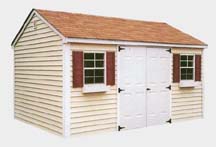 As you are starting to clean up the yard, put away the winter equipment, and get ready for the warm weather, you may be finding it difficult to find and store all of your yard equipment. Maybe you should consider a storage shed. There are many things to consider when purchasing a shed for your backyard. Do you want vinyl or wood? How big do you want it? What will you be using it for? Garden supplies, junk storage, bicycles and other seasonal toys for the kids? Every homeowner has tools and equipment for every season to keep their lawn and yard looking great. And parents also have loads of toys to keep our children entertained, but keeping all of these things in your garage can take up too much room. A storage shed is a great option to keep all of these seasonal items organized, in one location, and out of site.

When considering the size of the shed you want, you should always consider what you are going to be storing in it. This will give you an idea of the size you will need, and help you decide where to put it in your yard. This will also help you see what other options you need for the shed, such as a ramp for your riding lawnmower.

If your shed is going to be used for storage of your larger lawn or yard equipment or, you will have to purchase a large, sturdy shed. At fireplace showcase we offer sheds in both wood and vinyl, with or without overhead doors, and many shapes, styles and sizes.
Comments (0)
|
Trackbacks (0)
|
Permalink
|
|