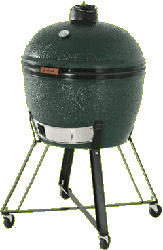 The grilling season is about to begin, and the Big Green Egg is a grill that is different than your traditional charcoal grill. The grill is ceramic which introduces a whole new element in heat retention. The capacity to withhold heat is one of the most important factors to produce the best charcoal grilling results. It allows for flavor and aroma retention.

It got its name because it is shaped like an egg, the Big Green Egg can precisely cook meals whether you're slow cooking or searing. Besides being a grill, it can also be used as an oven which can cook homemade pizza, bread and pies or it can be used as a smoker.It also maintains the natural juiciness of the food and the release of the food's natural flavors.

The Egg has 4 different sizes to accommodate any need, ranging in diameter from 24" down to 13". The Big Green Egg is the World's Best Smoker and Grill, giving it unmatched cooking flexibility. Whether you want to tackle high temperature, quick searing for the perfect rare steak, cook a whole chicken at a more moderate temperature, or tenderize a low-and-slow ten-hour brisket, you just can't beat the EGG when it comes to effortless cooking and sensational eating. Come see one at Fireplace Showcase.
Comments (0)
|
Trackbacks (0)
|
Permalink
|
|