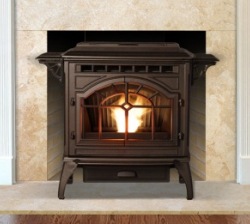 With the expectation that heating homes will cost more this winter, many homeowners are looking for better, more efficient ways to stay warm.

Pellet stoves and pellet stove inserts are the perfect way to increase heat efficiency while enjoying a beautiful fire. Combining both beauty and convenience, easy use, clean heat, and the elimination of fossil fuels, pellet stoves can be the answer to the needs of homeowners in Massachusetts. The energy conscious homeowner can reduce heating bills and bring ambiance to their home.

Similar to wood burning stoves, pellet stoves give you similar heat, but have many advantages that wood stoves cannot offer.
Pellet stoves are easy to load
Pellets can be easily and ecumenically stored in a small space
Pellets burn very hot
Pellets burn very efficiently creating very little waste
Pellet stoves can be set to a thermostat to regulate heat
Pellet stoves light automatically and are easy to use
Pellet stoves can be programmed to burn at an even rate and can remain at a consistent temperature
Overall pellet stoves can save people quite a bit of money over traditional heating costs
For more information on the right pellet stove for your home, contact The Fireplace Showcase.
Comments (0)
|
Trackbacks (0)
|
Permalink
|
|