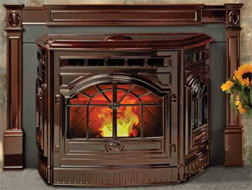 Many people are looking for better ways to heat their homes this winter. They don't just want to save money; they also want to heat their homes more efficiently. The immediate heat of a gas, pellet or wood burning stoves or fireplace inserts is the answer. The latest technology makes them easier and more energy efficient than ever before.

With quality manufacturers like Quadra-Fire, Napoleon and Vermont Castings, homeowners can choose from a full selection of cast iron and decorative enamel free standing wood stoves and fireplace inserts in styles ranging from contemporary to classic. You can also choose the type of fuel that would best suit your lifestyle: pellet, wood or gas.

At Fireplace Showcase, the showroom is tastefully designed and features pellet, wood and gas burning stoves, decorative fireplaces and fireplace inserts in an inviting home-like atmosphere; many are burning.

Gas stoves and fireplace inserts and pellet stove inserts come with thermostats and remote control, so you can set them to come on and have your home toasty warm as you come in the door from your workday.

Whether wood, pellet or gas, our stoves come in varying capacities to heat one room or your whole house. Contact us so we can assist you in finding a better way to heat your home this winter.


Comments (0)
|
Trackbacks (0)
|
Permalink
|
|