Morso Wood Burning Stove - 2B Standard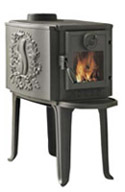 Classic forest wood stove from Morsø
Based on 1930s Morsø Forest Wood Stove, Morsø has launched the 2B standard. As with all current Morsø stoves, the 2B Standard wood stove is equipped with the very latest in combustion technology for greatly reduced smoke emissions. An 'air-washed' glazed door has been added for a comfortable uninterrupted view of the fire and the long, spacious firebox has been adapted to burn wood briquettes and logs up to 18" long. The 2B Standard produces enough heat to warm up to 1000 sq ft.