Morso Wood Burning Stove - 3610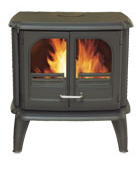 Developed specifically for the North American market, Morsø 3610 wood stove is the largest Morsø stove producing 60,000 Btu and heating areas up to 2,400 sq ft. A beautifully designed wood stove with clean lines, the Morsø 3610 radiant wood stove is ideal for rooms with cathedral ceilings that require a radiant heater for effective and efficient heating. In addition, this stove's large double doors make it perfect for heating large rooms.
The primary air-control lever is conveniently located in the front of the stove making it easy to adjust heat output and burn time, and the double doors with extra-large glass panels provide an excellent view of the fire. To keep the large panels clean, primary air is designed to "wash" down across the glass panes to keep them clean through all phases of the burn cycle.
Wood can be loaded into a Morsø 3610 wood stove from the front doors or through the easy-access side door. The large firebox accepts up to 24" logs and a specifically designed air channel helps burn the fuel as completely and efficiently as possible. The Morsø 3610 wood stove has two ash pans for convenient ash removal without manually shoveling out the ashes from the firebox.
Installation of the Morsø 3610 is versatile and flexible with a reversible 6" flue collar, standard rear and bottom heat shields, and an optional outside air kit. Optional also are functional cast iron warming shelves that give the Morsø 3610 a different appearance, while providing a great place to keep stews and soups warm.