The H Series vent-free peninsula-style contemporary gas fireplace is everything you are looking for and more. Open-faced fireplace. Check. 3-sided style with a cantilevered top. Check. Beautiful fire media options. 99% efficiency rating. Zero clearance with vent-free installation, saving money and almost eliminating architectural restrictions. Modern frameless finish. And finally, a robust and adjustable flame that will bring warmth and allure to any space. Check. Mate.
The H Series modern linear gas fireplace is available in three lengths: 42″, 60″, and 72″.
All H Series fireplaces feature high-quality fire media, which sits directly in the flames and covers the burner. Choose between multiple colors of fire glass or Carrara pebbles.
Specifications:
Gas Type:
Natural Gas
Heat Output:
25,000 - 37,500 BTU/hr
Weight:
42" - 190 lbs.
60" - 248 lbs.
72" - 305 lbs.
Venting:
Vent Free
Viewable Opening:
45", 63" or 75" W x 18" H
Flame Adjustment:
Yes
Interior:
Satin Black (Standard)
Remote Control:
Yes
Electric Ignition:
Yes
Certification:
ANSI Z21.11.2
Mass Approval Code:
G1-1020-113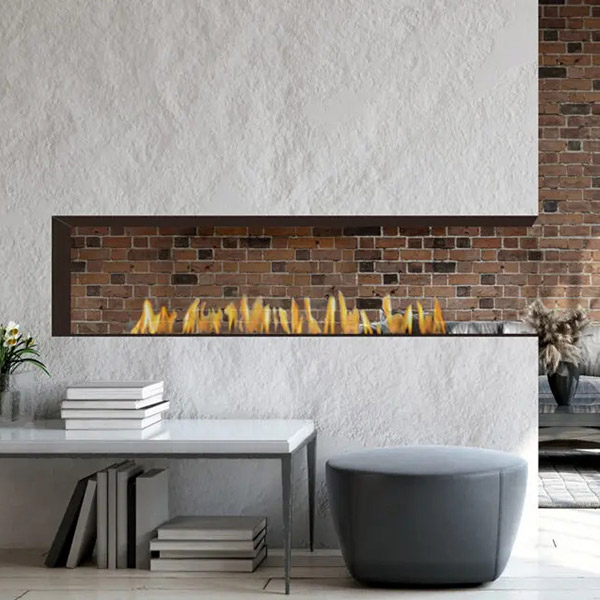 ---