All the beauty in a new shape.
The J Series outdoor, see through contemporary fireplace with its LED lighting and weather-resistant stainless steel now has a new shape. At 40 inches wide and higher 27 inches tall, this model has all of the features that make the J series distinct.
Additionally, the 40H features a choice of two burner types. The Linear Burner creates an even line of flame that looks impressive with our glass fire media or Carrara Pebbles as well as the Campfire Burner which has the flames smaller on the sides and increasing in height to the middle. Paired with the Log Set media it creates a natural campfire look. Both burners have robust flames that dance about in mesmerizing beauty.
The J Series 40H see-through outdoor gas fireplace is completely vent-free, offering you greater flexibility for your outdoor patio design.
Made of durable and weather-resistant stainless steel for years of well-crafted beauty.
Glass-free design, so nothing comes between you and your flames.
Featuring a viewable opening of 40″ wide by 27″ tall.
Controlled via remote control and/or a wall switch.
Specifications:
Gas Type:
Natural Gas or Propane
Heat Output (Natural Gas):
49,901 - 65,678 BTU/hr
Heat Output (Liquid Propane):
48,308 - 64,211 BTU/hr
Weight:
210 lbs.
Venting:
Vent Free
Viewable Opening:
40" W x 27" H
Flame Adjustment:
Yes
Interior:
Stainless Steel
Remote Control:
Yes
Electric Ignition:
Yes
Certification:
ANSI Z21.91-2017
CSA 2.41-2007 - Outdoor Decorative Gas Appliances
CSA 2.17-2017 - Gas Appliances for Use at High Altitudes
Mass Approval Code:
G1-1020-113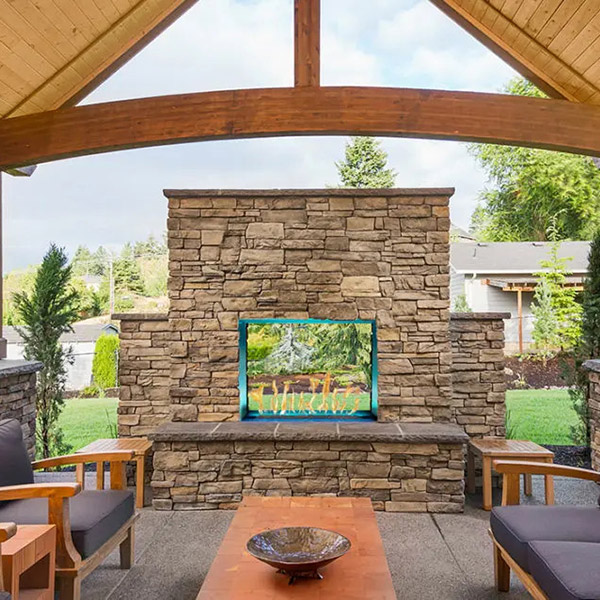 ---