Less is more. The Modore 75H, a direct vent gas fireplace, takes what is aesthetically beautiful about more traditional hearth products, stacked logs, and tall flames, and ups the ante with clean lines and a bold, sophisticated modern style.
Now introducing anti-reflective glass. Standard on this model, our anti-reflective glass is nearly invisible to the eye. This allows for a truly unobstructed view of your fire and logs.
So what sets this fireplace apart? The Modore 75H highlights designer trim, improved tube-style burners, and the E-Save Control System which can save up to 45% on fuel consumption, making for a stylish and efficient fireplace. Moreover, all Element4 fireplaces can be fitted for propane.
Specifications:
Gas Type:
Natural Gas or Propane
Burner:
Double Burner
Heat Output (Natural Gas):
14,300 - 46,400 BTU/hr
Heat Output (Liquid Propane):
16,000 - 37,000 BTU/hr
Viewable Opening:
28 3/16" W x 25 5/8" H
Weight:
287 lbs.
Venting:
Requires 5" x 8" Direct Vent
Flame Adjustment:
Yes
Interior:
Black Anthracite (Standard)
Remote Control:
Yes
Electric Ignition:
Yes
Certification:
ANSI Z21.11.50a-2008, CSA 2.22a-2008 -
Vented Gas Fireplaces
Mass Approval Code:
G1-0117-315
Efficiency:
89%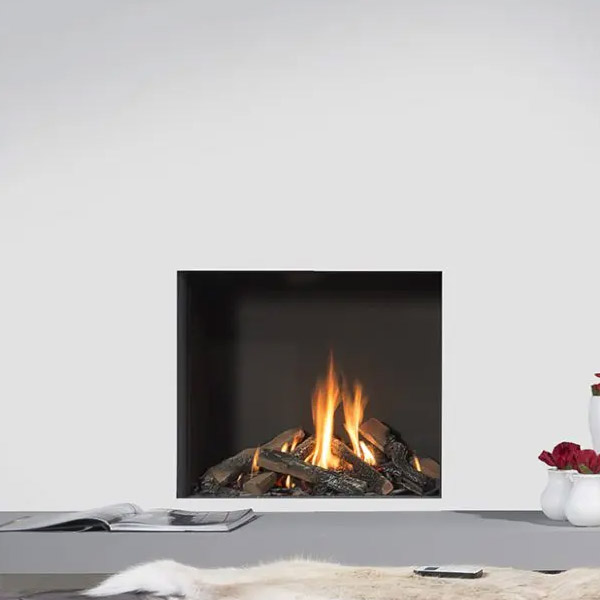 ---