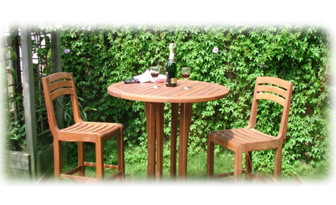 Warm sunny days are the perfect time for enjoying the outdoors. So now is the right time to have a bar set for this setting,
The FSC Maidenii Lovely Bar Set is made of eucalyptus hardwood, a naturally water-repellent wood. The material has been specifically grown for industrial use. Therefore, it is incredibly durable and can endure for years against the harsh elements of the outdoors, in all weather conditions. In fact, it is rust-resistant and brass coated, requiring only minimal maintenance.
A bar set in Providence, RI can create a superb setting where you can spend time with your loved ones, enjoying a light lunch or a short drink right outside your home. It is a very well-crafted outdoor bar table that is versatile enough to match your personal style. This lovely bistro furniture gives you a great value for your money.
This outdoor furniture is perfect for those who want to relax in their landscaped garden, backyard, or patio. Its smooth wood design and raised height make it an ideal furniture set to use for summer cookouts or intimate dates.
Visit The Fireplace Showcase for more options for outdoor furniture you can use this summer.
Comments (0)
|
Trackbacks (0)
|
Permalink
|
|