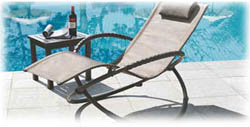 What better way to enjoy the summer season than to relax and enjoy under the sun. Sometimes, you just want to stay out in the sun, enjoy the yard or beach and relax on an aluminum Orbital Lounger.
Loungers are great lawn or beach furniture. You can sit on them and read your favorite book or just rock your way to sleep during the afternoon. Its unique contour shape allows you to comfortably adjust your body into different positions.
An aluminum Orbital Lounger can be used in a variety of ways outdoors. Use it anywhere and rest comfortably and perfectly alongside the pool or the patio. Orbital loungers can be conveniently transported by squeezing the handles and transferred from one place to another.
Lawn furniture in Seekonk, MA can help you relax in the great outdoors and have some quality time with your family and friends during your leisure time. Make moments with your outdoor living space by having outdoor furniture that is perfect this season and that can also be used throughout the year.
Lawn furniture is perfect for summer. Contact The Fireplace Showcase.
Comments (0)
|
Trackbacks (0)
|
Permalink
|
|