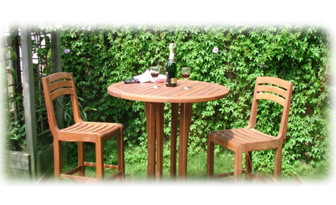 Spring is here, and the sun will no doubt be coming out again very soon. This is the best time to start looking for a lawn furniture among today's finest outdoor living products that are available in the market. With so many options, you will be able to find lawn furniture that will help you more enjoy the outdoors this spring and summer.
Gorgeous lawn furniture in North Attleboro, MA is the table and chairs set created by FSC Maidenii – Milan Dining Set. There are many varieties of tables and chairs from which you can choose, but if you have a family or are fond of having friends over, then the Milan Dining Set may be your best bet.
The FSC Maidenii – Milan Dining Set has been crafted to withstand even the most extreme weather conditions for outdoor use. In addition to the unmatched durability, this wooden outdoor furniture is also very aesthetically pleasing. The set is comprised of a 51-inch table with a Lazy Susan Insert and four matching foldable arm chairs. This table set will bring beauty to any outdoor setting which makes them perfect for your outdoor gatherings this summer.
To find out more about this wooden lawn furniture, contact The Fireplace Showcase.
Comments (0)
|
Trackbacks (0)
|
Permalink
|
|