Big Green Egg Grills are Fuel-Efficient Charcoal Grills - Cumberland, RI
15 July 2016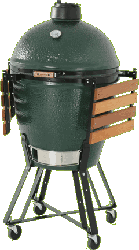 The Big Green Egg grills in Cumberland, RI offer unparalleled cooking flexibility which makes them a practical investment. These grills also serve as a smoker or oven in order to maximize their use. Your family will enjoy using them.
Big Green Egg grills use natural lump charcoal for delicious tasting food. Charcoal provides food with an amazing flavor that cannot be achieved through gas grills. And because the Big Green Egg grills are ceramic with double-wall construction, they are durable and fuel-efficient.
The Big Green Egg grills come in 5 sizes ranging from Mini to Extra-Large, so you can choose the size EGG that best fits your outdoor charcoal grill cooking needs. While the Large EGG remains the most popular, the XL Big Green Egg was developed because of the substantial demand for an even bigger EGG. Additionally, there are also smaller sizes of Big Green Egg grills based on lifestyles and space.
For more details about the Big Green Egg grills and other types of outdoor grills, contact The Fireplace Showcase.
Fireplaces, Pellet Stoves, Inserts MA, RI Blog
---