Buying a Wooden Swing - Set What to Consider - Seekonk, MA
23 May 2013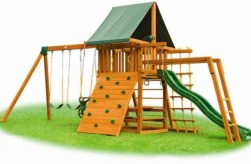 The swing sets today are nothing like the swing sets when we were kids. Wooden swing sets now resemble a playground in your backyard, encouraging imagination and hours of physical outdoor play. There are loads of design options available all with many extra accessories.

This makes it tough to choose the right swing set for your kids. So how should choose a wooden swing set?

First, you need to consider your budget. The choices of wooden swing sets may seem overwhelming, but there are designs that can fit almost any budget. While they very much vary in pricing, keep in mind that you get what you pay for, so be sure to be comparing apples to apples and look for a high quality swing set. No point to spending a couple hundred dollars if you will need to replace it again in a year or two.

Once you have decided on a budget range, consider the size wooden swing set you want. This will depend on how much space you have in your yard. Keep in mind that you need space around your swing set as well to accommodate swings and slides.

There are many places where you can purchase your wooden set or jungle gym. A local retailer like the Fireplace Showcase can provide you with a high quality wooden set that meets safety standards, has a warranty and is a resource for assembly, issues and more accessories! Buying from a local shop rather than online will also allow you to be able to view the wooden swing sets first hand.

The higher quality swing set the better, so be sure you have chosen to purchase a wooden swing set by a reputable manufacturer like Eastern Jungle Gym made 100% from cedar.

Come and visit the Fireplace Showcase and you can see how well manufactured they are and the quality construction. You can also find out about repair and replacement warranties.

For more information on wooden swing sets from Eastern Jungle Gym, contact the Fireplace Showcase.
Fireplaces, Pellet Stoves, Inserts MA, RI Blog
---