Children's Outdoor Swing Sets Make Your Kids Happy While You Can be Worry-Free – Providence, RI
1 May 2015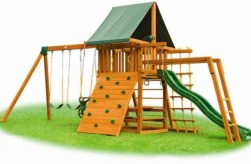 Weather is warming up and as parents you may be looking for where to buy children's outdoor swing sets in Providence, RI.
The Fireplace Showcase carries a wide selection of children's outdoor swing sets from Eastern Jungle Gym with a wide range of sizes to fit any yard. These swing sets are custom-engineered using Thru-Bolt Construction and a Flush mount fastener system, which makes them easy to install and extremely strong in order to keep your children safe while they have fun. In addition to their long lasting finish, they also have a protective coating which makes them resistant to rot and insect damage so they will last for years and years.
Incorporating kid-wise swing sets to your backyard will provide a summer staycation for your children. These swing sets also come with heavy duty slides, commercial grade swing hangers, and steel ladder rungs. Every play component is created with strength and safety in mind so you will can remain worry-free as your children and their friends climb on the swing set and glide their way to happiness.
To find out what size and style swing set is best for your children and your budget, contact The Fireplace Showcase.
Fireplaces, Pellet Stoves, Inserts MA, RI Blog
---