Find out More About The Efficiency of Pellet Stove Insert for Heat - East Providence, RI
26 August 2016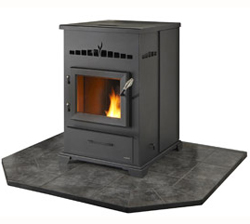 There are several advantages of pellet stove inserts, the biggest being ease of use. They are also fuel-efficient and environmentally-friendly.
The efficiency of pellet stove insert for heat is superb. After loading pellets and the flame is ignited, you and your family can enjoy warmth and comfort in your indoor space. Depending on hopper size in the pellet stove, it may only need to be loaded every couple of days. And because the fire is contained within a heat box inside the unit, heat is achieved with minimal smoke.
Pellet stove inserts in East Providence, RI use pellets for fuel that are the size of a pea. Pellets are made from recycled materials or wood scraps. They cost significantly less than fossil fuels saving homeowners on heating costs each month. Additionally, pellet stove inserts do not heat up on the outside, making them safer for small children and animals. Because they burn so much hotter, there is less creosote buildup in the chimney minimizing the chances of chimney fires.
To find out more about pellet stove inserts, contact The Fireplace Showcase.
Fireplaces, Pellet Stoves, Inserts MA, RI Blog
---