Fireplace Inserts Eliminate Heat Loss and Lower Heating Bills in Winter - Providence, RI
11 February 2015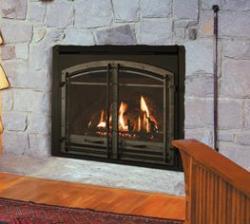 Because more and more people are now becoming more aware of the environment, many homeowners are installing fireplace inserts in Providence, RI. These energy-efficient heating appliances have a multitude of benefits, particularly in eliminating heat loss and lowering heating bills at home. This is because they are more efficient and environmentally friendly.
Traditional open hearth fireplaces are an inefficient way to heat your home because they are a source of significant heat loss. Installing inserts for fireplaces to prevent heat loss from happening has become more and more popular as homeowners become more educated on how to make their homes more efficient. Fireplaces are a beautiful feature in any home, fireplace inserts are positioned inside open hearths while decorative panels cover up the rest of the opening. This gives your heath and home a whole new look without major remodeling. With fireplace inserts you can get a whole new look and feel and have a more efficient home, for less.
Fireplace inserts revive the existing open hearth fireplaces, providing heat to your home while preventing heat loss through the chimney. Inserts are similar to wood stoves but they sit right inside your existing fireplace and are flush with its surrounds. They are specifically designed to make burning a fire less problematic for you and the environment. Additionally, EPA-certified fireplace inserts can also help in minimizing emissions so your environmental footprint is remarkably smaller as compared to using an open fireplace.
For more information on the inserts available, visit The Fireplace Showcase.
Fireplaces, Pellet Stoves, Inserts MA, RI Blog
---