Fireplace Inserts for Supplemental Heat that is More Efficient than Traditional Open Fireplaces – Providence, RI
17 September 2015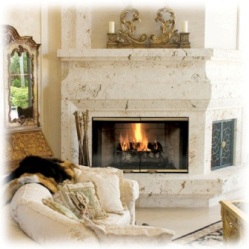 There is a major downside to the traditional open wood-burning fireplace. Whether it is a factory-built fireplace or a masonry fireplace, it faces heat loss issues because a fireplace is not very efficient by nature. Fireplace inserts in Providence, RI are strategically designed to address these concern thereby increasing fireplace heating efficiency.
Inserts for fireplaces help improve efficiency without affecting that cozy hearth look, all while generating safe and effective heat for your home during the cold winter nights. Fireplace inserts are fireproof boxes made out of steel or cast iron and fronted with insulated glass and beautiful surrounds. With this design, the heat is trapped inside the firebox creating a closed combustion system that lets you enjoy hot and controlled fires without compromising the beauty of the hearth.
When properly installed, fireplace inserts can offer supplemental heat for a particular room or for the entire house which is more efficient and efficient than a traditional open fireplace. Fireplace inserts can be fueled with natural gas, wood, or wood pellets so you can choose the insert that fits your lifestyle and your home.
To find out more about fireplace inserts, contact The Fireplace Showcase.
Fireplaces, Pellet Stoves, Inserts MA, RI Blog
---