Gas Fireplace Inserts: Warming and Entertaining Homes - Providence, RI
12 March 2015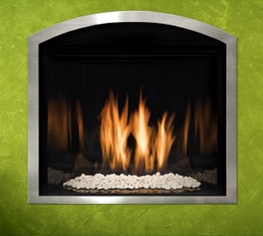 There are now gas fireplace inserts that can be customized and installed in your existing open hearth that provide the much needed heat in order to maintain a comfortable indoor room temperature. Designed for added convenience and comfort, these fireplace inserts fit right into the open fireplace to generate heat efficiently while you enjoy a full view of the burning fire inside your home during the winter and cold nights of spring and fall.
Mendota gas fireplace inserts in Providence, RI are known for their high efficiency and restoration-quality which is why they are one of the best alternatives for homeowners who have an existing masonry fireplace. The century-old Mendota craftsmanship of these gas inserts is paired with their modern-day green technology allowing flames to leap from a base of realistic logs, natural river rock, or glass fire stones.
Having a Full View fireplace insert in place lets you create wonderful memories with your loved ones while enjoying unmatched comfort inside your home. An unforgettable experience that you can have with your family and friends while this winter is to be warmed and entertained in front of a natural looking fire.
To find out more about available gas fireplace inserts, visit The Fireplace Showcase.
Fireplaces, Pellet Stoves, Inserts MA, RI Blog
---