Gas Grill or Charcoal Grill? - Seekonk, MA
2 May 2013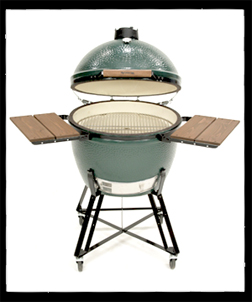 Those who are in the market for a new grill already know if they want a gas grill or a charcoal grill before they go shopping. But you need to consider other things as well like: size, price range, functionality and brand.

If you are in the market for a gas grill, there is quite a price range of grills that you can choose from. However, remember that you get what you pay for. So consider the materials with which it is made and the length of the warranty and what that warranty includes. Also think about what else you want your gas grill to do, maybe you want a side burner or rotisserie.

If you are in the market for a charcoal grill, don't only look at kettle charcoal grills, if you are more adventurous, take a look at the kamado style charcoal grills, the Big Green Egg.

Once you try a Big Green Egg, you won't grill on anything else again. The egg-shaped charcoal grills come in five sizes and can cook at a wide range of temperatures and styles. The Big Green Egg charcoal grill is perfect for slow-cooking, baking, smoking or roasting.

This grill uses natural lump coal, or hardwood charcoal. With hardwood you're getting a wood flavor to your meal. Grilling over hardwood charcoal makes food taste better. Hardwood charcoal can heat the grill to 900 degrees and it can burn up to 12 hours.

For more information, on gas or propane grills, contact The Fireplace Showcase.
Fireplaces, Pellet Stoves, Inserts MA, RI Blog
---