Get Your Storage Shed Before Spring Arrives – Providence, RI
14 March 2014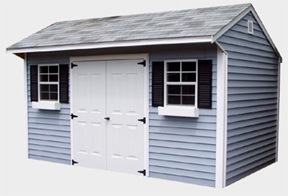 Believe it or not, spring is around the corner in Providence. Soon it will be time to store the snow blowers, shovels, ice-melt and time to break out the lawn mowers, bikes, yard tools and toys. Do you have a storage problem?
As homeowners, we tend to accumulate things – tools, toys, equipment and general 'stuff'. If you have a storage dilemma, now may be the time to start looking at wooden storage sheds. If you have a storage shed in place before you do your seasonal 'swap out' you may find yourself more organized as we move into the warmer weather.
Wood storage sheds can be incredibly valuable to you as a homeowners, both in organization and in home resale. Outdoor storage sheds can be perfect for storing your grill, garden pots, and gardening supplies. Or, you can use the storage shed for the kids outdoor toys, which can accumulate as they get older, consisting of pools, nets, bikes, balls and other sports equipment.
High quality wood storage sheds can stand up in all types of weather, so you should consider a well-built shed made with quality materials. There are cheap, inexpensive sheds on the market, but you get what you pay for. High quality construction is important in getting the years out of your shed that you need. It isn't worth paying less for lesser quality because you will end up replacing a poor quality shed in just a few years.
As you shop for sheds, consider that you want a shed that can and will be a permanent structure in your yard. Therefore, you need it to be attractive as well as durable. Also, think about what you will be using it for. If you are storing expensive heavy equipment like lawn mowers and tools you want a durable shed. Additionally, if it will be used to store the kid's supplies, it also needs to be durable to handle regular hard use.
For more information on high quality storage sheds for spring, contact The Fireplace Showcase.