Give Your Fireplace a Whole New Look – Seekonk, MA
31 October 2013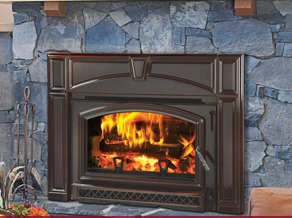 Does your home have a traditional, open wood-burning fireplace that you don't want or like to use? A new fireplace insert can give your existing fireplace a whole new look with choices that can be more efficient or convenient.
There are natural gas fireplace inserts, as well as fireplace inserts that are like wood stoves and pellet stoves.
Fireplace inserts are designed to go into existing fireplaces that meet the current standards of the Building Code.
Gas and wood burning fireplace inserts come in a variety of sizes and a variety of heat outputs. Basically with the gas units you can get anywhere from 17,000 BTUs up to about 40,000 BTUs. There is a difference in heating capacity from the low end to the high end inserts, you can heat from a 700 or 800 square foot home all the way up to a 1,800 or 2,000 square foot home.
A wood burning fireplace insert is basically a wood stove designed to fit inside your open fireplace, making your fireplace far more efficient. Depending on their size, wood-burning inserts can heat areas in the range of 1,000 to 1,200 square feet all the way up to about 3,500 square feet.
Some fireplace inserts can burn for six- to seven-hours and others can burn for up 10 hours. There also are pellet-burning inserts, which are like having a pellet stove installed in an open fireplace.
Are you trying to decide what kind of insert may be suitable for your fireplace? The most important thing to consider is what you expect to get and what you need from the fireplace insert.
Is it just the esthetics and the look that you want, or do you want a functional fireplace insert that is going to be able to give you a lot of heat? At the same time, most of the gas appliances work in power outages, so they are a tremendous secondary heat source as well.
Wood burning fireplace inserts can work without power, but pellet stove inserts require electricity. You also may want to consider your lifestyle before making a decision.
Pellet or gas inserts are more convenient than wood. So, you should consider if you want- and have the time- to stack and cut firewood. Or do you just want to be able to push the button and have the fireplace come on?
For more information, contact The Fireplace Showcase.
Herald