Great Cookouts with The Big Green Egg Charcoal Grill - Seekonk, MA
12 May 2017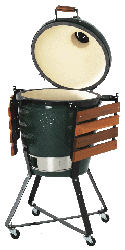 Charcoal grill cooking is the favorite past time for many. This is especially true now that the summer season is coming. During the warm weather, families can enjoy relaxing evenings outdoors with the delicious aroma of grilled gourmet.
The Big Green Egg grills are one of the most well-loved charcoal grills. Their ergonomic design gives cookout enthusiasts the ultimate grilling experience. The Big Green Egg reaches perfect cooking temperature and is ready to use in just minutes. The charcoal is easy to light because the design of this innovative grill allows air flow to circulate efficiently. Unlike traditional charcoal grills, the temperature can be easily adjusted easily. With these grills you can smoke, bake, slow roast, grill, sear and more. Anther advantage is that its ceramic surface does not get as hot as metal grills.
Big Green Egg grills are available in five sizes: mini, small, medium, large, and extra-large. For grilling for a small number of people, the Small Egg will be perfect. It is great for cooking a 12-pound turkey, 4 burgers, 2 steaks, or 1 rack or ribs. Do you grill for up to four people regularly? The Medium Egg would be suitable with a 15-inch diameter cooking grid. The most popular is the Large Egg which is the choice for most families. Its 18-inch diameter cooking grid can cook twice as much as the two other smaller Egg sizes. For grilled cooking that requires a substantial surface, the XL Egg would be the most recommended size with a 24-inch diameter cooking grid that can cook twice as much as the Large Egg. Depending on the specific cooking requirement, this selection allows cookout enthusiasts to choose the most appropriate size of the grill to suit their cooking needs.
Why these Kamado stylecharcoal grills in Seekonk, MA are very popular is no surprise. Cooking with them is fun and the food is often more flavorful. The Big Green Egg requires minimal maintenance and cleaning.
For more details about the Big Green Egg grills as well as other outdoor grills available, visit The Fireplace Showcase.
Fireplaces, Pellet Stoves, Inserts MA, RI Blog
---