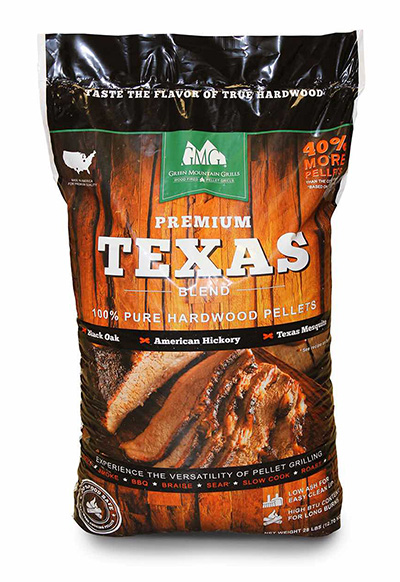 There are so many grilling pellet options out there. What is the best one for you? As you might guess, the answer to that question is, "it depends".
Wood grill pellets enhance the flavor of your meal. If you favor the aromatic blend of Black Oak, American Hickory, and a hint of Texas Mesquite into your recipe, Gold Mountain Grill's Premium Texas Blend Grilling Pellets offers a consistent flavorful smoke throughout the cook.
Premium Texas Blend is packed full of big Texas flavor in every pellet and is a perfect choice of hardwoods to bring out the flavor in your food without overpowering it. Bringing out the bold flavor of black oak, hickory, elm, and mesquite to any beef, poultry, pork, seafood, or vegetable product.
GMG pellets are 100% kiln-dried sawdust which stays clean throughout the process. The natural lignin present in all woods binds the pellets together without any additives whatsoever.
GMG pellet flavors also come in Premium Apple Blend, Premium Fruitwood Blend, Premium Gold Blend. These grilling pellets are your partner in making great, delectable dishes. So grill like a pro and up your culinary skill with GMG pellet flavors.
Contact The Fireplace Showcase to order your GMG pellet flavors.
Comments (0)
|
Trackbacks (0)
|
Permalink
|
|