Grilled Thanksgiving Turkey - Faster and Better
27 November 2013
What if we told you there's a way to cook your Thanksgiving turkey that's faster, easier and less messy than roasting it in the oven? Want a new, better and different way to cook your turkey for Thanksgiving this year? If so, Fireplace Showcase, a grill and fireplace supplier in Seekonk, urges you to consider our favorite grilled turkey recipe from Food Network star Alton Brown. It'll also make your turkey taste great: think moist, smoky. Grill it. You can use a gas grill or a charcoal grill.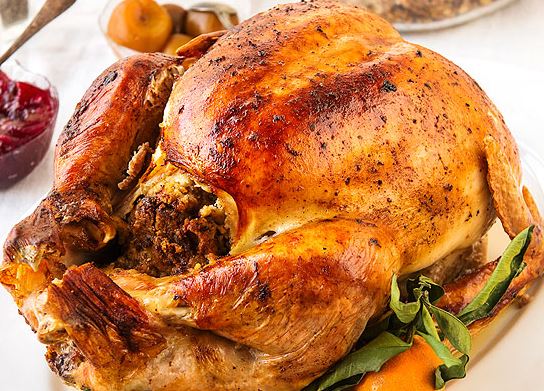 Alton Brown's Honey-Brined Smoked Turkey
Serves 10-12
1 gallon hot water
1 lb. honey (about 1 ⅓ cups)
1 lb. kosher salt
2 qts. vegetable broth
1 (7 lb.) bag of ice
1 (15- to 20-lb.) turkey, with giblets removed
Vegetable oil, for rubbing turkey
In a large cooler, combine the hot water, honey and kosher salt, stirring until the honey and salt dissolve. Stir in the vegetable broth, then add the ice and stir until the brine is cool.
Place the turkey in the brine, breast side up, and cover with cooler lid. Brine overnight, up to 12 hours.
Remove the turkey from the brine rinse inside and out. Discard the brine. Pat the turkey dry with clean paper towels, then rub the bird thoroughly with the vegetable oil and leave at room temperature for at least 30 minutes while you prepare the grill.
Heat the grill to 400 degrees.
Using a double-thick piece of heavy-duty aluminum foil, build a smoke bomb by placing a cup of hickory wood chips in the center of the foil and gathering up the edges, making a small pouch. Leave the pouch open at the top. Set this directly on the charcoal or on the metal bar over the gas flame.
Set the turkey over indirect heat, insert a probe thermometer into the thickest part of the breast meat, and set the alarm for 160 degrees. Close the lid and cook for 1 hour; when the skin is golden brown, cover with aluminum foil and continue cooking, replacing wood chips with a new cup.
Once the bird reaches 160 degrees, remove from grill, cover with aluminum foil and let rest for at least 15 minutes before carving. Carve and serve.
Image and recipe – People Magazine
Fireplaces, Pellet Stoves, Inserts MA, RI Blog
---