Grillin' with Green Mountain Grills and Bear Mountain BBQ Pellets
27 May 2020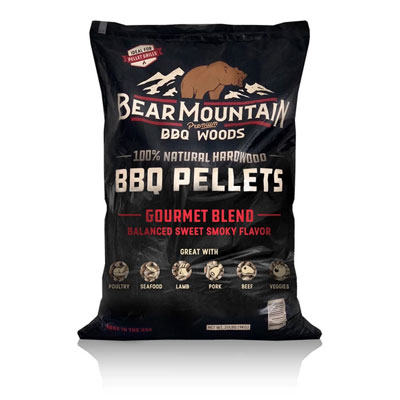 We take great pride in not only supplying you with the finest grilling solutions on the market today (such as the Green Mountain line of grills), but in our ability to consult and teach you how to use them. Today we'll share with you the magic of incorporating grill pellets such as Bear Mountain BBQ Pellets. They come in a variety of flavors.
Smoke pellets add so much to the depth of flavor of your grilled meats and vegetables. Smoke is the secret seasoning that's only used by a small segment of the grilling population, but has a huge impact on the flavor of your food, from meat and fish, veggies and cheese. Adding a small packet of Bear Mountain BBQ wood pellets or wood chips can create enough smoke to take your grill game up a notch. To get a great smoke flavor on your meats and veggies, it's important to salt your food and let it rest prior to grilling. This brings the moisture to the surface and gives the smoke something to stick to, creating a smoky flavored food in a short time. After you've added delicious smoke flavor to your food, sear it off over higher heat to lock in the flavor and initiate the Maillard reaction (the science).
Next you need to consider your seasoning. When seasoning food for the grill, it's important to use seasonings that hold up well to the heat environment your food calls home. Understanding how your seasoning impacts the food during the cook and the flavors that are created is equally important. It's a super simple way to elevate the flavor of any meal. Give it shot for your next BBQ.
Contact us to discuss the wide variety of grills and flavoring options just waiting for you to try.
Source: bearmountainbbq.com
Fireplaces, Pellet Stoves, Inserts MA, RI Blog
---