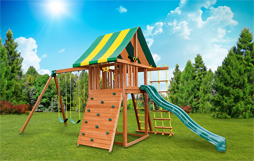 Swing sets are safe and fun for kids and their friends this season. A backyard swing set is the perfect place for kids to play with friends, without having to worry about their safety.
Most of the time kids spend on play sets is on the swings. Why not provide at-home entertainment for your kids in your backyard by buying and installing your own wooden swing set. It is more convenient for parents than heading to play at the park and you can always be comfortable with the safety and security of a swing set in your backyard. Parents want their kids to get outside, enjoy fresh air, get exercise and play in the sun. Swing sets are a good way to encourage them to get outdoor exercise, stay healthy, and have quality family time.
Let the spring and summer fun begin. For outdoor fun this season, you can set-up your swing set in your own backyard where your kids can invite their friends over for outdoor activities.
Swings and swing sets are both exciting and relaxing for children. Wooden swing sets come in all kinds of sizes and styles. So you can choose the ideal features that will encourage your kid's fun and imagination.
For information on the wonderful, affordable, and reliable wooden swing sets available at the Fireplace Showcase, contact us.
Comments (0)
|
Trackbacks (0)
|
Permalink
|
|