Cooler weather is fast approaching. Have you got your pellets yet? Better question: Have you got your new pellet stove yet?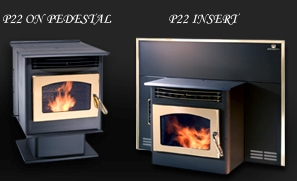 Consistent, efficient, and responsible heat is what you get from pellet stoves. Breckwell Pellet stoves offer the penetrating warmth and captivating flames unique to wood heat, yet with clean operation and all the convenience of a modern appliance. They look like a woodstove but they burn wood and/or corn pellets. You pour a bag of pellets into the stove and the pellets slowly move down an auger into a burn pot where they ignite. It couldn't be easier or more efficient.

Fireplace Showcase has Breckwell pellet stoves and inserts on special right now.

Pellet stoves and inserts are very efficient, 75% to 90% overall efficient, and have a BTU output content 4-5 times higher than cord wood. Pellet stoves are a good option for those without a fireplace or chimney because they can often be vented through a small hole in the wall.

Now about pellets. Eden pellets are $199/ton at Fireplace Showcase. You won't find a better price for a comparable pellet. Heat your home for the winter with a much smaller heating bill.

To put it in perspective, an average pellet stove will use from 1-3 tons of pellets per year. Pellets are often less expensive than cord wood, and of course with pellets, you also save on the time and energy needed to stack and carry the wood. Pellets can be stored in only 1/3 the space needed for cord wood.

Contact Fireplace Showcase in Seekonk to see the Breckwell pellet stove that is right for your home.
Comments (0)
|
Trackbacks (0)
|
Permalink
|
|