Heating with Gas Fireplace Inserts and Stoves is More Economical than Oil – Providence, RI
6 February 2014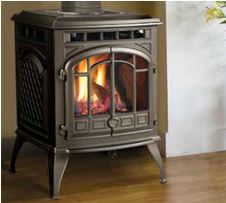 It is not too late to start heating your home more efficiently. If you heat with oil, but have natural gas in the house, you have numerous options. In fact, by adding a gas stove or gas fireplace insert to help heat your home, you can reduce the price of your oil bill by quite a bit. Heating with natural gas is less expensive than oil.
In fact, a new gas stove or gas fireplace insert will be more efficient than your furnace. So heating your home with gas is more cost effective. And, if your home has a natural gas line already, you are halfway there already.
At The Fireplace Showcase, we have many customers that come see us about heating with wood or pellets. That works for many folks. But once we talk about their home and their lifestyle and we find out they have a natural gas line already running to their home, they usually go for a gas stove or gas fireplace insert.
Natural Gas is the least expensive fuel, and no work. At the same time, you can reduce your home heating bills during this frigid and snowy winter. Gas stoves and inserts are controlled by a switch or a remote. You want a fire burning in your hearth? Push the button. They can also be controlled with a thermostat, so you can have more constant even heating. No wood to stack, no pellets to haul in. And natural gas is economical.
If there is no gas in your house, but you have it on their street. National Grid will bring it to your home for $800. Plan for next winter now, and get on their list now.
For more information on gas stoves and gas fireplace inserts, contact The Fireplace Showcase.
Fireplaces, Pellet Stoves, Inserts MA, RI Blog
---