Inserts for Fireplaces Improves Heating Efficiency without Spending Too Much on Energy Expenses – Seekonk, MA
18 February 2015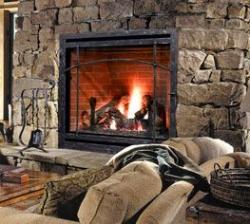 Maintaining the comfortable indoor temperature no longer has to be a pain in your wallet. Fireplace inserts in Seekonk, MA help you ward off the biting temperatures this winter has brought with it and helps you stay comfortable inside your home. Inserts also provide great savings on the cost of renovating and improving the efficiency of your existing fireplace.
With the cold weather in Seekonk, more and more people more efficient heating at home to stay warm and cozy. For this reason, numerous designs and styles of inserts for fireplaces are available so you can choose the right one to help you keep the desired temperature throughout your entire home. A fireplace insert makes your hearth more efficient by distributing heated air to all parts of your indoor space.
Another advantages of fireplace inserts is that they can be custom-designed and installed in your existing open hearth to generate heat that is safe and clean. It can boost the temperature inside your home without overheating it, so you can spare your family the inconvenience of the extreme drops in temperature during the cold winter.
If you have questions about how fireplace inserts can improve the heating efficiency of your fireplace without having to spend much on your energy bills, contact The Fireplace Showcase.
Fireplaces, Pellet Stoves, Inserts MA, RI Blog
---