Kid-Wise Swing Sets: Summer Outdoor Products with Outstanding Designs - Seekonk, MA
27 May 2015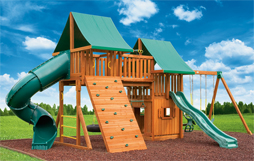 As parents, it is normal to want to add something to your home that can make your kids happy. Now that it is summer, you may be looking for a preferred local retailer for wooden swing sets in your area. It is great to know where to buy children's outdoor swing sets that you can place in your kids' play area in your yard. At The Fireplace Showcase, you can choose from a huge selection of high quality wooden swing sets that guarantee safety and fun. They come with climbers, decks, slides, playhouses, and more, making summer outdoor activities for your children more fun and engaging.
The kid-wise swing sets that are available complement your outdoor space and can make any backyard an exciting environment where kids can have fun. These outdoor products appeal to kids everywhere because they have outstanding and imaginative designs. Kids will love to climb and run around on these backyard swing sets. As they play, your kids will become stronger and more agile. Wooden swing sets make kids happy while keeping them physically active as well.
Grant your children exciting summer memories with children's outdoor swing sets in Seekonk, MA. With so many available accessories and add-ons for every swing set, your children will never get bored while setting their imagination free.
For more details on all sizes and styles of kid-wise swing sets, contact The Fireplace Showcase.
Fireplaces, Pellet Stoves, Inserts MA, RI Blog
---