Perfect Summer Lawn Furniture that Holds up Well Outdoors - Cumberland, RI
5 April 2016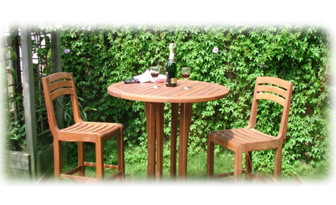 There are a lot of ways to beautify your outdoor space, but there is one in which you will gain more benefits without spending lots of time and money: teak lawn furniture. The tables and chairs in a teak wood set are designed to hold up well for outdoor use. It can withstand the weather so that you can expect years of use. This lawn furniture is made from high quality materials which extend the life of each piece beyond the stated warranty period. Having lawn furniture at home is a fun and practical investment to help you enjoy your yard in the warmer weather.
Lawn furniture in Cumberland, RI is made of premium quality wood. As a result, it does not get hot in direct sun unlike outdoor furniture made with metal frames which retains the heat. While materials such as aluminum, glass, plastic, and steel have certainly overtaken the outdoor furniture industry, wood is undeniably a staple material in manufacturing lawn furniture which is more beautiful and classic. This long-lasting natural material does not get rusty like furniture made of metal either. Because it can withstand constant abuse, it is perfect for outdoor use and you can expect it to last for generations with minimal maintenance.
For more details on teak lawn furniture that you can enjoy this summer, contact The Fireplace Showcase.
Fireplaces, Pellet Stoves, Inserts MA, RI Blog
---