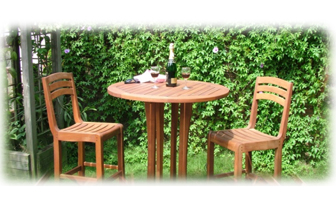 Lawn furniture in Providence, RI will get a lot of use during the summer months. It is during these times that you can gather with your loved ones, neighborhood friends, or visitors from far away distances. The beautiful weather during the summer/spring season is so inviting to spending quality time outdoors ... andit would be even more memorable if you have beautiful outdoor chairs to sit on and table to serve the tasty food on.
With outdoor living spaces becoming more popular than ever these days, a lot of homeowners are investing in a lawn furniture set. It is used for the long summer days and relaxed evenings bringing indoor comfort to your outdoor living area. The matching set of chairs and tables allows you to create a favorite spot to eat out right outside your home with your family and friends, have some me-time to do a relaxing hobby, or finish some weekend work to reach the deadline.
Spending money on outdoor furniture is usually very worthwhile. These furniture sets are perfect for summer as you spend as much time outdoors as possible. Exceptional materials are used to construct these furniture sets that feel as good as the look ... thereby offering a stylish comfort to enjoy during the summertime.
To find out more about it, contact The Fireplace Showcase.
Comments (0)
|
Trackbacks (0)
|
Permalink
|
|