Mendota Full View Gas Insert: More Flame, Less Frame
5 January 2022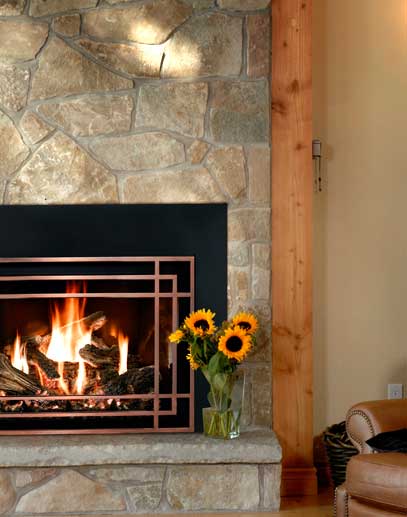 Many consider their fireplace as the focal point of your living room. Sadly, dated fireplaces tend to demand excess frame space as compared to the actual burn area. Wouldn't it be nice to simply and affordably transform your old fireplace into a more functional and decorative asset? Fireplace inserts deliver that capability for you. Today, let's take a look at the Mendota FV33i fireplace insert. It offers the largest viewing area of all Mendota gas inserts.
Perfectly sized to fit smaller fireplace openings, the FV33i still provides a viewing area that's 30% larger than comparably sized insert designs. Like its larger cousin above, the authentic FullView fire is fueled by Mendota's high efficiency BurnGreen™ system, offering moderate heat output from 31,000 to 10,000 BTUH. And what better way to frame your fire than with a choice of designer fronts and doors?
Features:
FullView fire is placed on the hearth, with no telltale louvers or raised platform
FireLight accent lighting system adds extra drama and detail when the fire's on, a gentle glow without heat when it's off
Easily installs into existing masonry or factory built fireplaces
Romantic fireplace insert is also a certified ANSI/AGA high efficiency wall furnace
Fully customizable with Mendota's newest designer fronts and doors
The Mendota FV33i is available at The Fireplace Showcase. Contact us to learn more about this gas fireplace insert.
Fireplaces, Pellet Stoves, Inserts MA, RI Blog
---