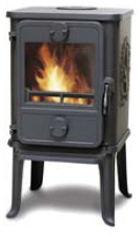 Are you looking for a unique and beautifully designed wood stove? It is time to discover Morsø wood stoves. Designed with timeless beauty, with traditional styles to modern sleek styles, there is a Morsø wood stove for your home. Designed for beauty with cast iron's unique properties, these wood stoves also obvious plus points in terms for the environment too.

Once you own a Morsø wood stove you are going to love it for more than the design, the cast iron or the stove's green-friendly impact. By then, your wood stove will have already become one of the most-loved items of furniture in your home. In front of your wood stove will be the favorite place in your home to share a special moment with friends and family. A trusty source of heat and comfort, you will love your wood stove for its beauty, look and warmth. And for the glow of happiness it has spread throughout the house year after year.

To choose a Morsø contact Fireplace Showcase.


Comments (0)
|
Trackbacks (0)
|
Permalink
|
|