Moving Hot Air – How To Heat Your House Using Your Fireplace - Providence, RI
3 April 2015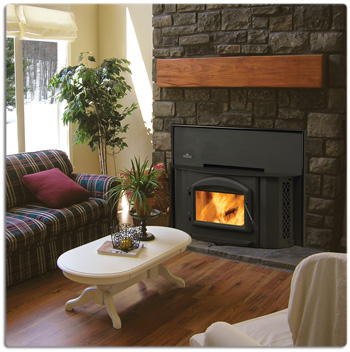 February saw some record-breaking temperatures, and this winter has borne with it some immense amounts of snow in some parts of North America. If you have a wood burning or pellet-burning stove, fireplace or insert, you've probably tried to augment or even replace your home heating by using these fabulous appliances. It's an exacting science, moving hot air from one space into all of the others, and there are several solutions to explore. Heating your house using your fireplace is pretty simple. Depending on what kind of house you have, these tips are pretty effective too.
Go With The Flow
There are loads of ways to create airflow in your home. It is dependent, mostly, on the style of house you have. The best set up would be having your fireplace/stove/insert located on the main floor or main living area with a centralized location, or in an open concept space. Or having a ranch style house (long and sprawling), with the unit in the middle so you have two smaller wings to heat. Many people, for cleanliness reasons, opt for a basement installation of their fireplace/stove/insert especially if they are using a pellet or wood-burning model. This is where you may have an issue. But fear not! There are solutions, because sure hot air rises, but it needs a little bit of help.
Let's Get Moving – Cheap And Simple
If you have a forced air heating and cooling system, turn on the fan and just use it to circulate the air that is created by your fireplace. This works best in more open concept spaces and smaller homes where heat loss to the vents won't be noticeable. If you have ceiling fans, reversing them so that the air is being pulled up is another way to circulate that heat. The moving air is pulled up, thrown against the ceiling and then comes down the walls and is sucked back up again, much like a convection oven, only cozy with less cooking. This also works well if the fireplace is in a common and social area.
A Little Electricity Goes A Long Way
What do you do if you haven't got a forced air system to move the air around? There are several fan options that you can use, including fans that sit in the upper corner of doors, and even your big old box fan. Place the box fan on low, facing INTO the space where your fireplace is, blowing the cool air at the unit. This will cause a convection reaction and the hot air will be forced away from the burning unit. If in a small room, the hot air will be moving out the door into larger spaces in no time.
May Require Renos
If you're still not getting the heat that you want, you may think about some minor renovations, like adding a pass through vent over the burning unit, into the room above. This simple mod will allow the heat produced by your fireplace to simply flow upwards. In a ranch style house, the long kind, adding transoms over the doors – those little windows but without adding glass – will allow for increased airflow. Doing this in conjunction with using ceiling fans or the home's venting systems will make for a nice and warm home. Even better, you will add more light to your beautiful home if you choose to do this as well.
To check on the effectiveness of moving hot air from one space to another, try taping a streamer or piece of toilet paper to the doorframe. If it's moving, you have airflow. If not, other solutions may be necessary. Either way, it is possible to heat your home by moving hot air generated by a wood or pellet burning fireplace/stove/insert.
To view our full line of wood burning and pellet burning appliances contact Fireplace Showcase.