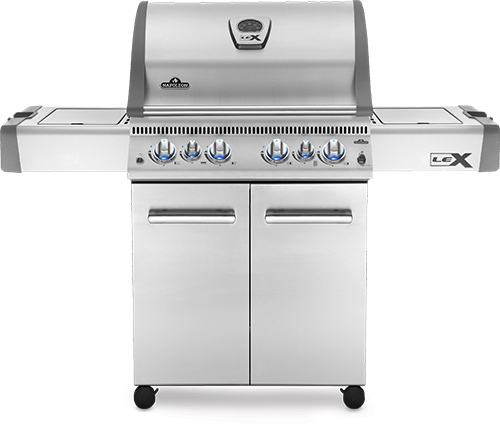 Let's talk the Napoleon Grill LEX 485 with Infrared Side & Real Burners. Wow…what a machine! The structure and the burners are made of stainless-steel construction. It offers some of the largest grilling space of any grill on the market today. It incorporates "smart wave design" functionality which makes it supremely effective in cooking smaller items without allowing them to fall through. It sports four main burners and two additional burners.
This grill offers a powerful ceramic infrared burner at the back and an available rotisserie kit. You can elect to empower your Napoleon Grill LEX 485 with a smoker burner that transforms this already highly utilitarian grill into arguable the best grill/smoker combos on the market today.
The JETFIRE ignition system works exceptionally well, and the I-GLOW backlit knobs make night cooking a breeze and wow, do they look great!
The entire Napoleon grill line provides the highest standard for grilling excellence. They are one of single most favorite line of products to personally discuss and demonstrate. Contact The Fireplace Showcase. Let's talk!
Comments (0)
|
Trackbacks (0)
|
Permalink
|
|