New Wood Stoves Can Save You Money – Providence, RI
19 December 2013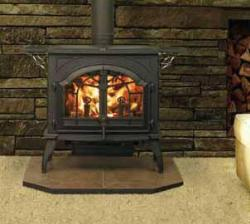 The snow is here, the cold has set in and the furnace cannot seem to keep up. This winter is predicted to be unseasonable cold, and it seems that has been the trend so far. With fossil fuel prices traditionally rising as winter progresses, many homeowners can expect to pay more than ever on heating their homes. But it does not have to be that way. Wood burning stoves can help heat your home and cut utility bills.
Wood burning stoves may seem like an investment, and they are. An investment traditionally pays you back in dividends and a wood burning stove will do that. Wood stoves are an investment in your home, in the environment and in your wallet. They will pay you back because they will pay for themselves in just a few years, depending on the age of your home and your heating system. They also will increase your home's value. Most buyers want an efficient way to heat.
As an excellent source of heat and an excellent addition to your home you will quickly come to realize that adding new- or replacing an older- wood stove is worth the money. A new wood stove can dramatically reduce your home heating bills while they add comforting and economical heat to your home. Perhaps you have an older wood burning stove, built before 1989, if so new wood burning stoves are a better investment. Today's wood stoves are EPA-certified, are more efficient and offer more styles and sizes than those that were made prior to 1989.
EPA-certified wood stoves release less particulate emissions than older stoves. This can actually mean 50% less pollution or more! So while, wood stoves use renewable energy for fuel, they also have better emissions standards. A more efficient stove give you more heat from the same amount of wood as well, this also helps save money.
Wood stoves can heat your entire home or they can supplement the heating system you have already. Either way, you will see your heating bills reduced.
For information on new wood burning stoves contact Fireplace Showcase.
Fireplaces, Pellet Stoves, Inserts MA, RI Blog
---