Pellet Stove Cleaning Ensures that You Get the Most Heat - North Attleboro, MA
7 March 2016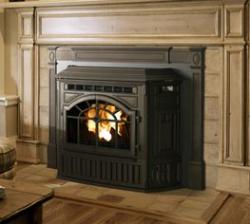 Operating a pellet stove or insert is a lot less work than a wood burning stove. You only need to feed pellets into the hopper every couple of days, depending on the size of the stove. However, pellet stoves and inserts still require some maintenance and cleaning in order to ensure that the efficiency of pellet stove inserts for heat is preserved. Proper pellet stove cleaning is crucial to maintain optimum performance when burning pellets for safe and sufficient heating.
The pellet stove cleaning service in North Attleboro, MA helps ensure that you are able to capture the most heat in your home. Some homeowners do not have their stove or insert serviced until they experience trouble or see an increase in the amount of fuel they are burning.
Cleaning pellet stoves ensures that all components of the stove are clean of dirt and debris which can have an adverse effect on the performance. It is vital to remove ash deposits or rust which can render a pellet stove insert inefficient for providing heat.
To find out more about the importance of pellet stove cleaning services, contact The Fireplace Showcase.
Fireplaces, Pellet Stoves, Inserts MA, RI Blog
---