Pellet Stove Cleaning Services Help Ensure that the Components in Pellet Stoves and Inserts Function Optimally when Heating - Seekonk, MA
1 March 2016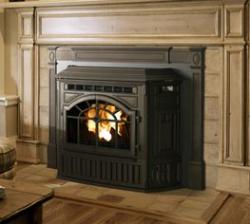 Routine cleaning service is required in order to maintain the efficiency of pellet stove insert for heat. Not have this service performed regularly can render a pellet stove insert or stove inefficient when burning its fuel.
All pellet stove inserts need a thorough cleaning of the entire system. Depending upon the model of your insert, burning habits, and fuel selection, a pellet stove cleaning service needs to be performed after each 1 to 2 tons of fuel burned. However, if you are burning low-grade pellets in a lower-end pellet stove or insert, this service may need to be performed more than once a year.
Many homeowners have pellet stove cleaning service in Seekonk, MA performed once a year, during the off-season, in preparation for the coming winter. Conducting this cleaning returns the pellet stove insert to top condition. This helps ensure optimum performance when used in the winter. It is also during the pellet stove cleaning service that a simple diagnostic is done to various elements of the insert, making sure that it is operating as it should.
To find out more about pellet stove cleaning service, contact The Fireplace Showcase.
Fireplaces, Pellet Stoves, Inserts MA, RI Blog
---