Pellet Stove Inserts Are Smoke-Free with Efficient Pellet-Burning Operation for Bright and Beautiful Flame - Seekonk, MA
16 March 2016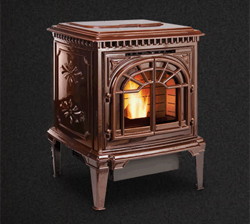 One of the main advantages of the pellet stove inserts in Seekonk, MA over traditional fireplaces is the absence of smoke when the pellet fuel is burned. This is why homeowners never have to worry about a smoky home or other unpleasant odors when heating with a pellet stove insert. In addition to cutting down on air pollution, using a pellet stove can also trim down your monthly heating bills.
Besides the smoke-free and high efficiency of pellet stove inserts for heat, another benefit of inserts is that the dry pellets used for fuel create bright and beautiful flames. So while pellet stove inserts enhance the decor of your home and make you feel comfortable when it is cold, they also let you enjoy a beautiful dancing fire which is relaxing and therapeutic after a long day. e
When purchasing a pellet stove insert, you will have many different choices to ensure it fits the style of your home. They come in various sizes, finishes, and styles.
To find out more about your choices of pellet stove inserts, contact The Fireplace Showcase.
Fireplaces, Pellet Stoves, Inserts MA, RI Blog
---