Pellet Stove Inserts Make Open Fireplaces More Efficient and Convenient to Use - Seekonk, MA
13 November 2015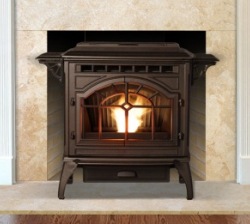 With pellet stove inserts you are able to burn renewable fuel to heat your home. As a result, efficiency of pellet stove insert for heat significantly increase the efficiency of heating your home. Instead burning logs or gas, you pour pellets which are made of compressed sawdust into the hopper. This makes pellet heat very convenient because with a very long burn time, pellet stove inserts will heat your house efficiently with renewable energy.
Pellet stove inserts in Seekonk, MA make open fireplaces more efficient and convenient to use. These fireplace inserts are prefabricated heaters that slide into your existing fireplaces. Each pellet-burning fireplace insert consists of a metal firebox and heat-proof glass door. They also have a decorative flange, or surround, that covers and conceals the gap between the insert and the fireplace. You do not have to worry about smoke while in use because the insert has metal chimney liner that carries combustion gases and smoke up the chimney. The pellet stove insert uses a hopper where you pour the pellets which are automatically dispensed to the fire as needed. Additionally, you can easily adjust the rate at which pellets are supplied in order to produce as much or as little heat as you want.
To find out more about the most efficient pellet stove inserts in Seekonk, contact The Fireplace Showcase.
Fireplaces, Pellet Stoves, Inserts MA, RI Blog
---