Pellet Stove Inserts: Save Money by Using Them - Boston, MA
4 November 2016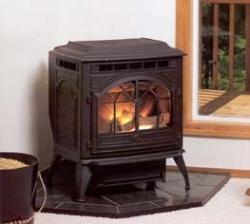 Pellet stove inserts in Boston, MA help homeowners save on their heating expenses during the cold winter. There are two main reasons why homeowners can enjoy the cost savings benefits by using these inserts.
The efficiency of pellet stove insert for heat is dramatically improved over an open fireplace. Fireplace inserts are more efficient than most furnaces, and burn at such a high heat that they use almost all of the fuel provided, leaving very little ash behind. These inserts can be used to entirely heat a home or as supplemental heating, depending on the size of the home and the insert.
Generally, pellets are more economical than heating oil, propane or electricity. Like traditional wood, pellets are also renewable. But compared with a wood burning stove, pellet stove inserts are easier to tend and need less frequent fueling while they maintain the warmth you want at home during chilly nights. As mentioned, the pellets burn more cleanly so are less of a hassle to clean as well.
Pellet stove inserts use pellets made from processed wood scrap. Pellet pricing is competitive especially for people those who live in or near urban areas where natural firewood can be expensive. Pellet stove inserts are perfect for people who are committed to using renewable energy and who want a beautiful and efficient way to heat their homes.
For more details on the efficiency of pellet stove insert for heat, contact The Fireplace Showcase.
Fireplaces, Pellet Stoves, Inserts MA, RI Blog
---