Pellet Stoves and Stove Inserts - Heat your Home for Less - Seekonk
29 August 2013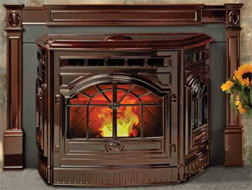 Fall is here, school has begun and the winter is projected to be colder than average with more precipitation than normal. Are you ready to heat your home this winter? Most existing heating systems do not adequately heat our homes. In fact, most homes have significant cold spots leaving you with two options, turn up the heat or put on another layer. Not anymore. Pellet stoves and stove inserts are the perfect solution to adding more heat to your favorite room.

With pellet stoves and inserts you get consistent, efficient, easy heat making the cold rooms in your home cozy. And, pellet stoves can be installed in any room with an outside wall because they can be vented through a small hole in the wall right to the outside. This makes installation easy and less expensive than stoves or inserts that use any other fuels. The heat that is generated from pellet stoves and pellet stove inserts is similar to wood heat. However, it is cleaner, more economical and easier to use.

Pellet stoves look like a wood stove but they burn wood pellets. Pellet stoves and stove inserts are very efficient, 80% to 90%. They also produce a heat output that is 4-5 times higher than wood. Pour a self-contained bag of pellets into the hopper and you will be warm for hours. It couldn't be easier or more efficient.

And when you buy in the beginning of September, you avoid the rush and you will have your pellet stove or insert installed faster. If you purchase a pellet stove before December 31, 2013 you are also eligible for a $300 federal tax credit.

Contact Fireplace Showcase in Seekonk to see what pellet stove is right for your home.


Fireplaces, Pellet Stoves, Inserts MA, RI Blog
---