Pellet Stoves are a Greener Alternative to Traditional Fireplaces and Wood Stoves - Providence, RI
26 January 2015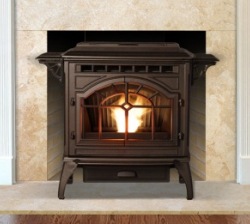 Pellet stoves in Providence, RI are a budget- and environmentally- friendly approach to heating homes during the cold season. These stoves conveniently convert biomass to heat in order to warm a living area with minimal smoke particles and less ash, making them a greener alternative to traditional fireplaces and wood stoves.
The biomass products that serve as fuel for pellet stoves are made from renewable substances such as waste wood, logging leftover, and sawdust. Wood pellets are compressed and less expensive biomass fuel that are produced with low moisture content. This means that a high percentage of combustion efficiency is achieved; this means that most of the pellets are burned and turned into heat, leaving less ash than wood and emitting less particulates into the air.
Pellet stoves make your home cozy and comfortable while generating very efficient heat, these pellet stoves also fall well within the clean air standards. Pellets are sold in bags so they are easy to store and transport. Pellet stoves are easy to use. Fill the hopper with pellets each day, and the flame is automatically ignited. Additionally, pellet stoves can be placed against any outdoor wall. There is no need for a masonry chimney, which means that you can put a pellet stove in any room in your house.
To find out more about the mechanics and advantages of pellet stoves, contact The Fireplace Showcase.
Fireplaces, Pellet Stoves, Inserts MA, RI Blog
---